Feedback Savings Promotion
Many PINK SUN customers already post feedback messages about how they use or have benefited from their PINK SUN products, which we greatly appreciate and want to show our thanks.
So for a short time we are offering a limited supply of 10% off Savings Codes when you post a product message.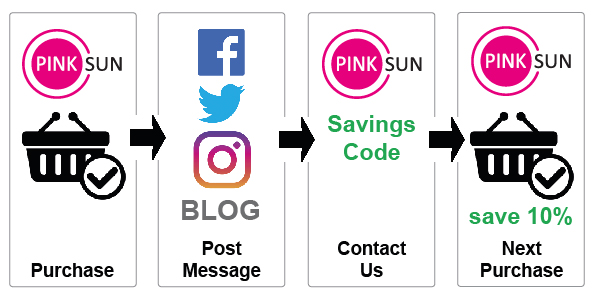 To receive a 10% off Savings Code today you need to:
Make (or have made previously) a purchase of PINK SUN products from anywhere.
Post a message on your social media page or other website blog about how you used or benefited from your PINK SUN product. Feel free to add a pic or clip if you want.
Include the words "PINK SUN" in your message and a link to www.pinksun.co.uk
Jump on the PINK SUN website and send us a Contact Us, "Product and all Other queries" message. Include in the comment section:

"Feedback Savings Promotion"
Month of your purchase, mm/yyyy format
Order delivery postcode
Post/Blog site and User/Page name (do not paste a link as messages with links are blocked).
(*If you have a private facebook, instagram or other account you will need to send a screenshot of your post to sales@pinksun.co.uk)
Once we have veiwed your message (usually the same day) we will immediately send you a unique Savings Code to your email for you to enter into your basket (in the Promo codes section), and receive 10% off the next order you place on the PINK SUN website.
Feedback Savings Promotion Terms & Conditions
Social Media posts and other website blogs are acceptable (this excludes review sites or any other sites where products have been purchased). You need to apply your unique Savings Code at checkout for the savings to be applied to your order. The 10% Savings Code will be applied to your basket total before any other savings or promotions during checkout. The Savings Code is only redeemable at checkout on the PINK SUN website and has no other cash or redemption value. Each Savings Code is unique and is only redeemable once. The Savings Code must be redeemed within 3 months of issue against products in stock during this time. Only one blog and therefore one Savings Code can be requested and used per order. Savings Codes are not transferrable to another customer and must be redeemed by the customer who made the initial purchase. Savings are applied to product prices only. PINK SUN reserves the right to cease this promotion at any time. However any Savings Codes issued prior to cessation will continue to be redeemable as per these terms and conditions.