Producing quality extra virgin coconut oil
PINK SUN Certified Organic Extra Virgin Coconut Oil is deliciously light and creamy with the natural aroma and taste of fresh coconuts. It is not hydrogenated, refined, bleached or deodorised. Our raw extra virgiin coconut oil is cold pressed at less than 38 degrees so is considered "raw coconut oil" and is suitable for raw food diets.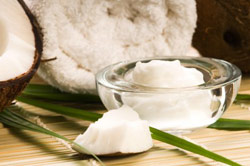 To produce great tasting raw organic extra virgin coconut oil we start by growing the finest organic coconuts in tropical Sri Lanka. These organic coconuts are harvested at the optimal time when the coconuts are bursting with oil. The organic coconuts are then husked and the raw coconut meat (white inner part) is separated from the hard shall which is recycled as bio-fuel. The raw coconut meat is then carefully dried, cold pressed and filtered to release a rich and light pure extra virgin coconut oil.
The extra virgin coconut oil is then sealed in glass or non leaching HDPE containers to retain its freshness and taste. HDPE plastic is the only plastic considered safe for food packing purposes.
Organic coconut oil is produced without harmful pesticides or genetically modified organisms. PINK SUN Extra Virgin Coconut Oil has been certified organic by the Soil Association and is non GM. With a melting point of 18-24 degrees you will find organic coconut oil remains in its solid state for most of the year in the UK. Keep out of direct sunlight as UV rays may spoil the pure extra virgin coconut oil.
Why is extra virgin coconut oil so good for you?
Extra virgin coconut oil is high in medium chain fatty acids, which are a healthy compliment to your diet and lifestyle. PINK SUN Organic Coconut Oil is rich in Lauric acid which is converted into monolaurin in the body. Monolaurin is a monoglyceride which is known for antimicrobial, antiviral, antiprotozoal and antifungal properties. Monolaurin works by disturbing the lipid membrane in organisms such as fungus, bacteria and viruses, to eventually destroy the organisms.
Unlike other saturated fats extracted from animal tallow the medium chain triglycerides found in extra virgin coconut oil are absorbed more readily into the body and used in the liver to generate energy. The medium chain triglycerides are nutritious and can aid with other food absorption in addition to supporting body functions whereas long chain fatty acids found in many other oils are more prone to body fat production and arterial plaguing.
The hydrogenation of many vegetable oils generates trans fatty acids which are a known cause of increased heart disease. Unlike hydrogenation manufacturing at high temperatures extra virgin coconut oil is cold pressed producing a pure extra virgin coconut oil that contains no trans fatty acids.
So with both its anti micro-organism properties and healthy fat attributes PINK SUN Certified Organic Extra Virgin Coconut Oil is a great addition to your nutritional intake.
To find out more about the superior health quality benefits of extra virgin coconut oil see Coconut Research Centre
Some suggested uses for PINK SUN Certified Organic Extra Virgin Coconut Oil:
Cooking, baking, frying
Natural skin moisturiser to soften and nourish dry skin
Chemical free hair conditioner to soften and tame hair