Homemade Chocolate Adam's Story
It was a few months back, when I (Adam) thought to myself "I would like to try some cacao nibs - they sound interesting". Without knowing what I meant, my wife put her usual Pink Sun order in (Cacao powder for making hot chocolates, and coconut oil for all kinds of stuff) and also got what she thought was Cacao nibs - turns out they were not, and before we realised, we had a large packet of Cacao Butter Drops. Well... they didn't taste great on their own... (what ARE these things???) so I turned to the font of all wisdom and knowledge, and did a quick search on the internet. In hardly any time at all, I came across a recipe for making your own organic, raw chocolate (apologies, I cannot remember where I got it from). It turns out this is really simple. Equal measure of Cacao powder and Cacao butter, and that is about it - with sweetener to taste, of course. The recipe said 1 cup - and that is about right to make about a plateful of chocolate (all will become clear!). So here is how I do it (and I have experimented a bit just to get it right).
First, I take the Cacao Butter Drops, and melt them SLOWLY over boiling water (no need to heat the water any more after it is boiled – just leave it alone), in a glass bowl. This time (probably distracted by taking photos) I did not put enough boiling water in, and had to add some more later... but it still seemed to work OK!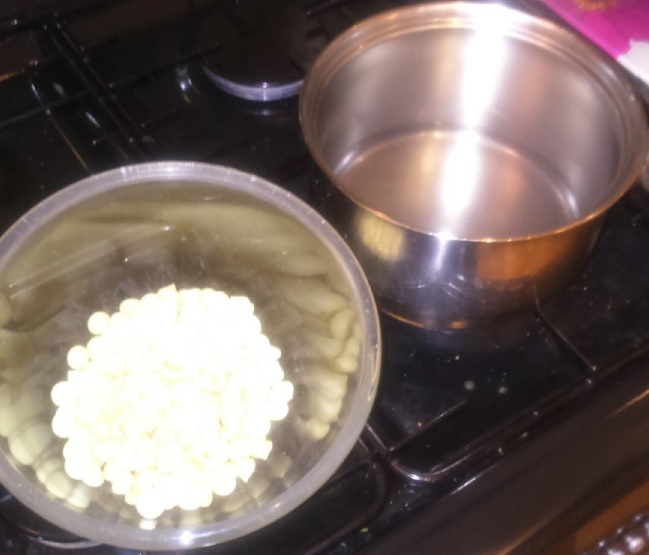 This tends to take longer than you expect - and it is better not to rush this! All in all, about 10 to 20 minutes.
In the meantime, I got my spices ready - I'm a spicy kind of guy, and like to add some interest to the chocolate. My super secret recipe is this: Chilli flakes, Cardamom seeds and cinnamon (bark is better, but I did not have any this time and had to resort to the pre-ground stuff... oh well...)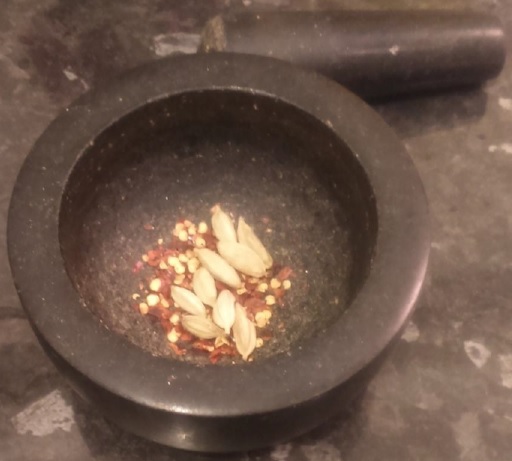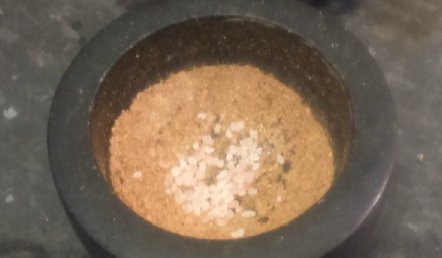 Part of the fun is to make your own recipe. If you are a purist, you can avoid adding too many flavours (less is more). But the Cardamom turned out to be a lovely surprise (just ensure you remove the husks). Somehow, it adds an "orangey" flavour, believe it or not. I also add two / three pinches of Himalayan salt crystals, but do not grind these up too much - just crushed a little.
Back to the bowl. Not melted yet…Glass of wine. Cup of coffee. Cream crackers and cheese... (this is not essential, but I find it helps)
Back to bowl. As mentioned earlier, not enough water, butter seems to be setting again... more water, and hey presto, ready in about 5 more minutes... a bit of stirring off the heat, and those remaining few drops melt away. Temperature is really important here – After taking it off the heat and leaving for a while, I tend to dip my finger in, and if it feels slightly warm only (and almost cool feeling at the same time... difficult to explain) then I tend to think it is right. Technically speaking, it is all to do with allowing cacao crystals to form. When it is too hot, this will not happen.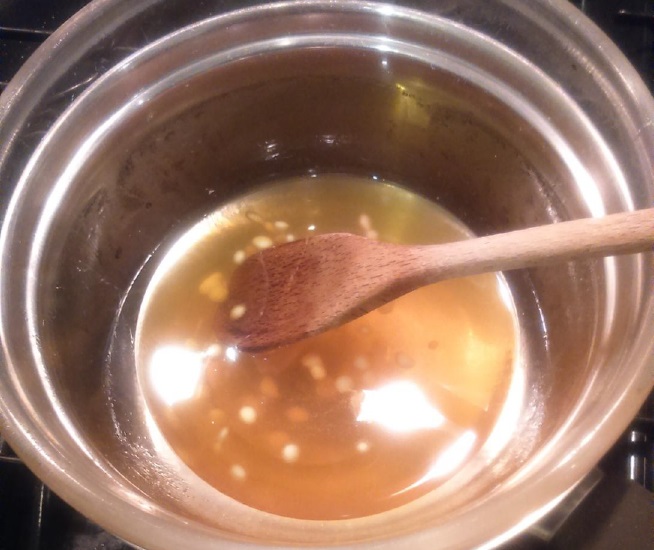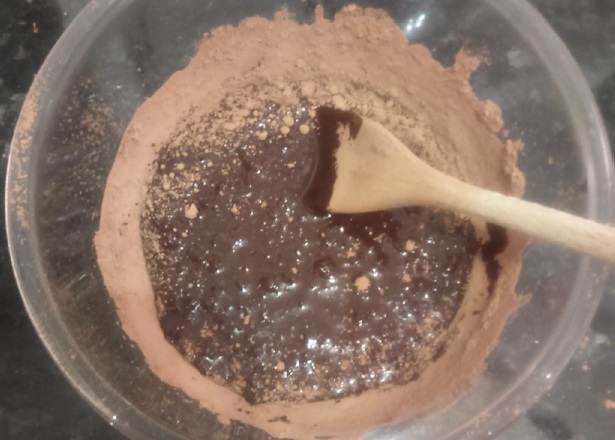 One cup of Cacao powder and Spices then stir. YUM.
Add sweetener. My preference is for a granulated stevia based sweetener - and I add about 3 teaspoons. We have cut sugar out of our diet, so it tastes plenty sweet enough to me - I would estimate it at the strength of about 85% chocolate such as you might buy in the shops - but of course, much better. The fantastic healthy properties of the raw Cacao are still present.
Stir, stir, stir... the more the better, and it needs to get quite cool (but still liquid) before pouring it out onto a plate. Look at the sheen on that!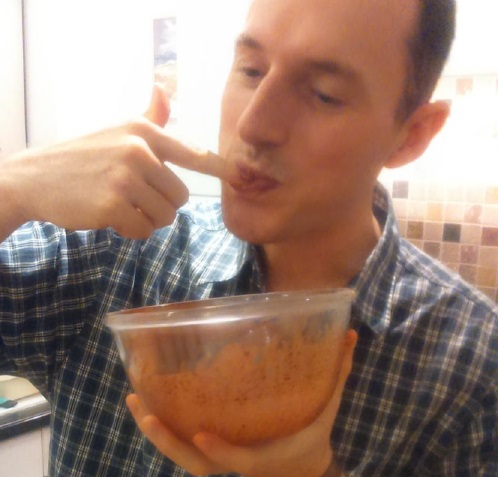 Clean the bowl out. (my favourite part of the process)
Leave the plate in the fridge for a while - 30 minutes should do it. I left mine for a bit too long today (while I watched an episode of the Hairy Bikers), and it ended up cracking a bit - but this does not matter, of course.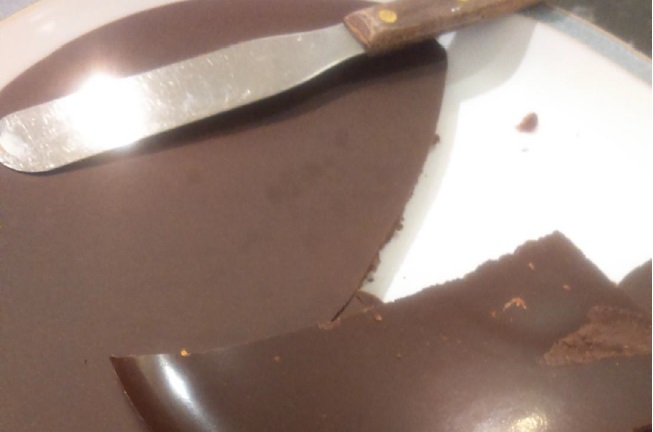 It is absolutely snaptastic, delicious chocolatey yumminess, with a bit of kick, and interesting layers of flavour due to the salt and spices - totally healthy too. Happy :-)
List of ingredients
- 1 cup PINK SUN organic butter drops
- 1/2-1 teaspoons chilli flakes
- 5-10 cardamom pods (dried)
- 1/4 stick of cinnamon
- 3 teaspoons of stevia powder (check strength)
- 1 cup PINK SUN organic cacao powder