Quality All Natural Whey & Casein Protein Powders

Compare all PINK SUN whey & casein protein powders
PINK SUN Ltd has a unique range of whey & casein protein powders to meet your dietary needs. Being low carb they are great for keto diets.
All PINK SUN whey & casein protein powders are derived from whey & casein sourced from milk produced by grass fed hormone free cows*
| | | | | | |
| --- | --- | --- | --- | --- | --- |
| Component | Everyday Whey | Natural Whey | Easy Whey Xtra | Certified Organic Whey | Certified Organic Casein |
| Concentrate or Isolate | Concentrate | Isolate | Concentrate | Concentrate | Concentrate |
| Produced from Grass fed Hormone free cows' milk | Yes | Yes | Produced from goat & sheep milk | Yes | Yes |
| Produced in | UK | UK | Europe | Europe | Europe |
| Low temperature processed, Undenatured | Yes | Yes | Yes | Yes | Yes |
| Protein per 100g | 82% | 92% | 80% | 80% | 78% |
| Fat per 100g | 8g | 1g | 4g | 7g | 2g |
| Lactose per 100g | 5g | 1g | 9g | 3.5g | 2g |
| Unflavoured | Yes | Yes | Yes | Yes | Yes |
| Added Sugar | No | No | No | No | No |
| Contains trace sunflower lecithin to aid mixability | Yes | Yes | No | No | No |
| Artificial flavours/sugars | No | No | No | No | No |
| Gluten free | Yes | Yes | Yes | Yes | Yes |
* Easy Whey Xtra is produced from goat and sheep milk ( goat whey, goats whey ).
To produce great whey protein powder you need to begin with grass fed cows in great health, eating what their digestive systems are designed to eat, grass and pasture based feeds. Cows in such great health are Hormone free. Some whey proteins are produced from cows which are fed on grain or stock feed and therefore to counter the poor milk production and quality these cows are often 'boosted' with milk producing hormones.
However at PINK SUN we know that to produce milk in its most natural form requires cows eating and living in their most natural way (mind the pun). So we source our whey & casein from grass fed hormone free cows.
Grass fed may include fresh grasses, pasture based foraging plants and grass based silage/baleage.
Careful milk processing and whey & casein separation
To produce undenatured whey & casein with the maximum range and quantity of intact amino acids and peptides all PINK SUN whey is ultra/micro filtered at low temperature. Through this process fragile amino acids and peptides are retained thus producing a whey or casein protein powder with high levels of branch chain amino acids (BCAA) and Leucine.
By ultra/micro filtering at low temperature (unlike acid or ion exchange processing) the bioactivity of whey protein is maximised. This means the key amino acids for glutathione production are retained such as cysteine, glycine and glutamine. Glutathione is important as it helps protect your body's cells and mitochondria from oxidation and per-oxidative impacts.
Spray drying and finishing
But it is not just a matter of healthy grass fed hormone free cows and low temperature ultra/micro filtered whey with spray drying technology that make a great whey protein powder. At PINK SUN we keep all our whey proteins free from added sugar and artificial sweeteners such as sucralose and aspartame. A small amount of non GM sunflower lecithin may be added to ensure the whey protein powder mixes well with liquid.
Everyday Whey, Natural Whey and Certified Organic Whey & Casein are unflavoured, undenatured whey protein powders which let you the customer add your own unique flavouring to taste. They are carefully prepared from milk which must be heated to 72°C for 15 seconds to meet food standards regulations. (Although raw milk may be sold under certain conditions in the UK, it is unlawful to manufacture "raw whey" in the UK, EU or the USA).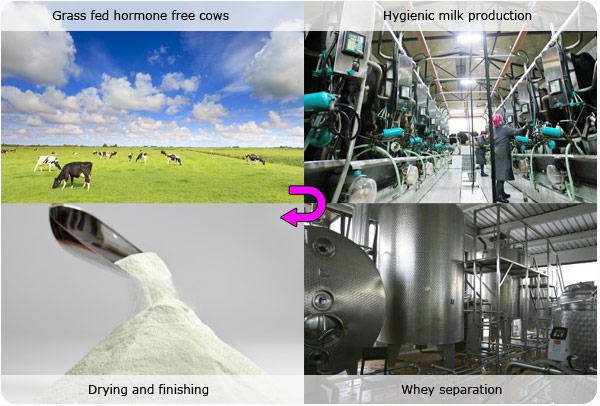 Quick checklist to quality whey & casein protein
Grass fed, Hormone free. All natural, healthy cows

Full range of amino acids and immuno nutrients produced within the milk
Superior to grain and stock fed cows' milk

Low temperature processed

Maximises bioactivity by retaining BCCA intact
High temperatures destroy vital peptides

Acid/Ion exchange free process

Both forms of processing damage and denature the amino acid profile of the whey produced
Ultra/micro filtrated ensures maximum yield of beneficial amino acids

Use of natural not artificial flavouring

No sugar, artificial sweeteners or artificial colours
Non GM instantising agent