Organic & Natural Wholefoods
At PINK SUN we believe that what you eat can make a big difference to how you feel and how well you get on in life. That's why we have gone to great lengths to source a premium range of certified organic and conventional nutritional wholefoods including grass fed hormone free whey protein powders, extra virgin coconut products, gluten free foods, natural sweeteners, fruits & nuts, multi vitamins spirulina & chlorella and a range of cacao products for you and your family's health and wellbeing. We also stock garden & pet organic insect repellent.
We are proud to hold a current organic licence with the Soil Association (Licence number DA22232). This ensures PINK SUN Ltd has been inspected and satisfies the requirements of the Soil Association organic standards and Regulations (EC) No 834/2007 and 889/2008.

Soil Association, Certificate of Registration
Soil Association, Product Trading Schedule
Soil Association, Product Trading Schedule Continued
For more information about the difference between Organic and Non-organic products please see the article here
From our base in North Yorkshire, UK we are committed to bringing you some of the finest quality products from around the world to compliment your healthy lifestyle, gluten free needs and keto diets.
We are continually researching new organic and wholefood products as well as keeping up to date with the latest news & research on our products, not to mention publishing some exciting product recipes for our customers. All this information can be found in our Articles & Recipes area.
Free Postage
All PINK SUN product purchases through this website are delivered free of postage & packaging to UK mainland addresses.
Our loyal customers are testament to our commitment to customer service in ensuring that every PINK SUN product is delivered in a durable and timely manner.
Full delivery service information.
Independent Feefo Reviews
We are always hugely grateful to our loyal customers for purchasing PINK SUN products. Many customers leave feedback about PINK SUN products and service as a way of saying thanks, helping other customers and helping us improve. PINK SUN customer service and product feedback is managed independently by Feefo the global reviews platform. Feefo have recognised our committment to consistent quality customer service by awarding PINK SUN with a Platinum Trusted Service Award. See the lastest Feefo reviews here.

Alternatively we are continually developing new nutritional and organic wholefoods, so please send us details of any product you would like to see available from PINK SUN by contacting us at sales@pinksun.co.uk or via our Contact Us page.
Toybox Charity
PINK SUN are proud to support TOYBOX a UK based charity with a mission to end the injustice of street children.

Money Back Guarantee
We are so sure you'll love your PINK SUN purchase that all orders come with the PINK SUN 100% no quibble, Money Back Guarantee - no questions asked!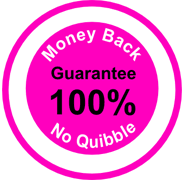 Secure Online Payments
PINK SUN Ltd accepts payment by Sagepay, Paypal, Mastercard, Maestro, Visa, Visa Debit, American Express. All prices displayed are inclusive of UK VAT. Where VAT is applicable this will be shown separately in your basket.

See our Terms & Conditions for more information about purchasing PINK SUN essentials and PINK SUN organics products.
Back to Main menu